EXTROM: THE LEADER IN ABRASIVE, ROBOTIC AND INDUSTRIAL SOLUTIONS IN BELGIUM
At Extrom, we create, transform and adapt abrasive and industrial solutions for professionals and the general public. For several decades, we have been specialists in our field of activity and provide our expertise to our customers to supply them with the tool, product, machine or even robotisation process that will enable them to accomplish their projects in a top-quality professional manner.
Whether sanding, countersinking, grinding, buffing, satin-finishing, deburring, brushing, cleaning, providing personal protection equipment, automated industrial machines, robotisation, etc., we have a vast array of areas of expertise allowing us to serve all sectors of industry from the aeronautics to medical sectors, including the construction, automobile and rail sectors !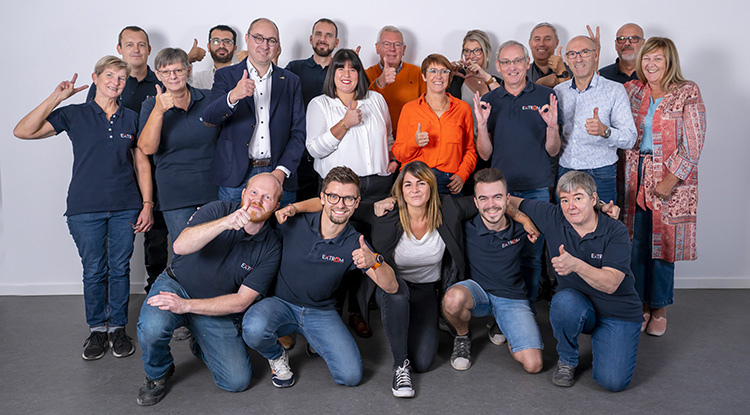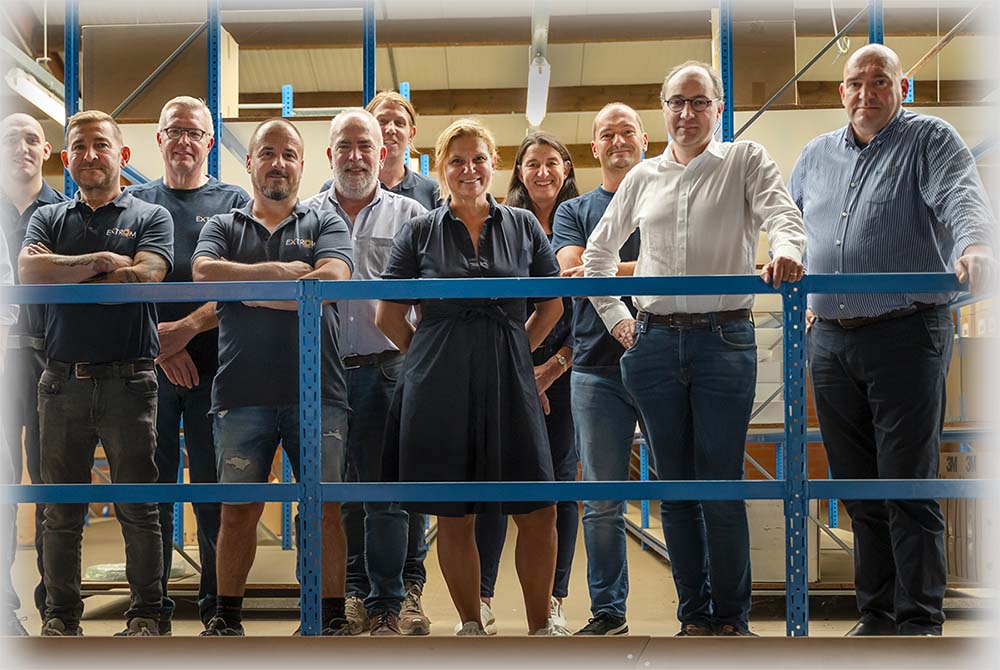 Our teams of professionals
Extrom has a team of approximately 30 people spread over two sites who strive each day to guide their customers, thanks to professional and adapted advice, in tune with the trends and advances the industrial sector.
To enable our teams to meet the precise expectations of our customers and to develop in a constantly changing sector, we regularly offer training in all the technical and specialised aspects of our business. The abrasive and super abrasive solutions market, the latest machines to be produced… all of these notions no longer hold any secrets for us!
As the operating modes of each machine are very specific and since our customers need to have complete control over their use, we endeavour to know all the ins and outs of these machines so that we can best pass on our expertise. This is why we also test our machines on all types of materials before offering them for sale.
Our specialist production sites
Founded following the merger between the Centre Des Abrasifs in Liège and D'Hulster in Lichtervelde, Extrom is today present on two production sites in order to provide broader coverage of Belgium and to be easily accessible from any point of the country.
In Wandre, we specialise in manufacturing abrasive wheels and deburring wheels. We are proud to have received ISO 9001 certification, which guarantees our products' reliability for our customers.
In Lichtervelde, we are experts in manufacturing customised sanding belts, a process that is continually developing thanks to automation and invention of innovative materials.
Extrom boasts years of experience in the domain of industry, which it uses to serve you in more than 40 countries.
Our technical salespeople are constantly on the move through the Benelux countries and France to advise you.
Robotisation and the invention of new materials are pushing us to stay at the cutting edge of technology.
Professional quality products and tools
Discover our e-shop! It boasts a stock of thousands of tools, products and industrial machines that you can purchase on-line. Your purchases are available by delivery or for collection from one of our sales outlets.
Thanks to our wide range comprising more than 10.000 references in stock,
You can either have it delivered or pick up your order directly from one of our points of sale. We have a wide range of common items, as well as the latest state-of-the-art products.
Are you in need of specific advice ?
Make an appointment with one of our representatives in your region !